Yanumoja Yoga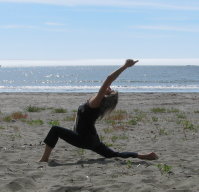 Yanumoja yoga is based on Hatha traditions. The first syllable yan (to retain) is taken from the word yantra which means 'device that allows focusing of energies'. Umoja means unity in Kiswahili. Yoga means to join or yoke into oneness.

Founded by Nikki Manzie, Yanumoja Yoga is the focusing of one's energy toward union to culminate in a state of wholeness or oneness. It holds the intent to harmonize with our true nature while fully engaging with life.
Classes are multi-level and offered via video conferencing.
Tuesday evenings 5:30-7pm: gentle joint opening and floor stretches followed by Yoga Nidra.
Friday mornings 9:30-10:30: Gentle energizing flow.
Seasonal registration is required and rates depend on length of season. See contact information to inquire about current or upcoming sessions.